Every year, fascinating dental images are shared on Figure 1 — here are some of our favorite images this year that span multiple areas of dentistry.
1. The Dentist Who Studied the Effects of Soft Drinks on Their Own Teeth
A dentist tested the effects of three soft drinks on their own wisdom teeth which had been extracted in their twenties. One tooth was placed in cola, another in a sugar-free energy drink, and a third into a glass of water.
The first tooth, which was left in a glass of cola, was stained dark brown from the caramel coloring found in the soft drink.
The second tooth, which was left in a sugar-free energy drink, had most of its enamel stripped away.
The third tooth was left in a glass of water and saw no change.
While the dentist noted that the experiment "wasn't a realistic situation", another healthcare professional pointed out a situation where a "28-year-old male came in with teeth decayed almost to the gum line and in terrible pain thanks to daily consumption of energy drinks and [soft drinks]."
2. Tartar Buildup in a Dental-Phobic Patient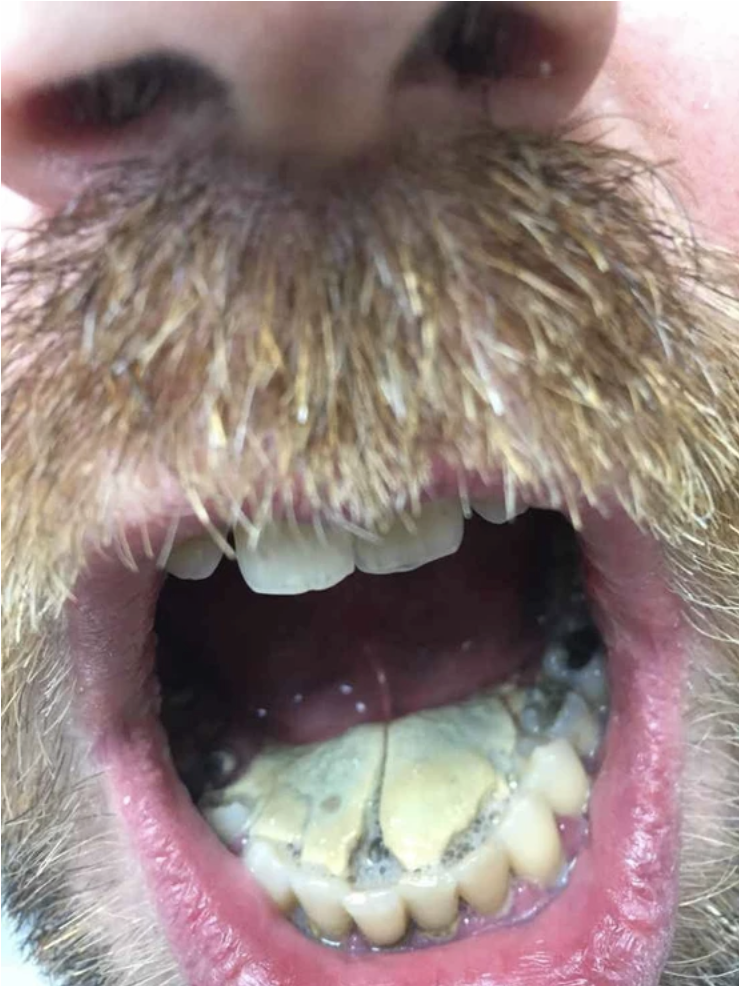 This dental image of calculus buildup was posted by an oral and maxillofacial surgeon on Figure 1. The patient (who was dental-phobic) presented with a calculus shelf underneath the tongue. A dental hygienist commented, "A trained eye can see the tissue/gingival erythema and the sub-gingival calculus peeking up. Patient must be so uncomfortable. This is why it is so important to start the children young with positive dental experiences."
3. The Child Who Was Scared of Wiggling Out Baby Teeth
This 10-year-old patient presented with two rows of mixed dentition. The dental hygienist who shared this case on Figure 1 described how the child was "scared of wiggling out baby teeth". Unfortunately, the patient needed to have the teeth manually extracted by a dentist with further corrective treatment provided by an orthodontist.
4. The 6-year-old Who Got a Lego Stuck on Their Tooth
This child presented to the emergency department with a plastic block stuck on their tooth. They had been playing with the toy in their mouth when it became stuck. A pedodontist used a handpiece to section the plastic bricks under local anesthesia, and the patient lost the tooth with it. A nurse replied, "I love kids! Just when your ER call night gets quiet and you are taking a breather … boom … Legos!"
5. A Split Uvula
This dental image, shared on Figure 1 by a dental hygienist, shows a rare bifid uvula, or a uvula that is split into two. Even more interesting — the patient is a triplet and the triplets all share the same condition.
Bifid uvulas occur in approximately 2% of the population. While they normally do not cause any problems, they are sometimes associated with submucous cleft palates. One member of the Figure 1 community commented, "My goal as a dentist is to find one of these."
Updated March 17, 2023; originally published December 2019
---
Join the Conversation
Register for Figure 1 and be part of a global community of healthcare professionals gaining medical knowledge, securely sharing real patient cases, and improving outcomes.